Distance: 62.5 miles
Grade: Moderate
Direction: Melrose to Lindisfarne
5-6 days walking at 10-12 miles per day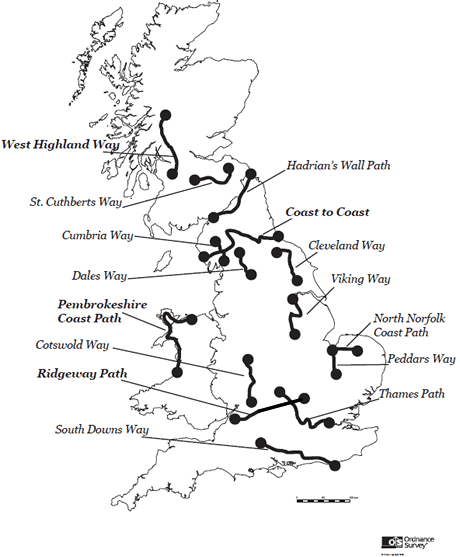 The life and progress of St. Cuthbert has provided the inspiration for this route to be developed. St. Cuthbert started his ministry in Melrose in about 650 AD and after a short period at Ripon he came to Lindisfarne to be Prior. He was eventually appointed Bishop of Lindisfarne before his death.
The route starts at the superb Melrose Abbey, a 12th century Cistercian foundation. From here St. Cuthbert's Way crosses the Eildon Hills to Bowden and continues through Newtown St Boswells and along the river Tweed to Maxton.
Dere Street, the Roman Road, is followed to the Harestanes Countryside Visitors Centre. A 3 km/ 2 mile detour will allow you to visit Peniel Heugh and the Waterloo Monument. The route continues to Cessford, where the formidable remains of Cessford Castle can be seen. Minor roads lead on to the valley of the Kale Water for the climb up onto the 310 metre / 1000 ft Grubbit Law. From here a ridge walk with splendid views leads to the twin towns of Town and Kirk Yetholme.
The Pennine Way is followed out of Kirk Yetholme, but is left to cross the border fence below Eccles Cairn and enter Northumberland National Park.
From Hethpool in the College Valley, a high level route crosses a moorland area rich in pre-historic remains before dropping down into the market town of Wooler.
St. Cuthbert's Way then crosses Weetwood Moor and the river Till, reaching St. Cuthbert's Cave on the Kyloe-Chillingham ridge, with the first view of Lindisfarne. The final section leads to the coast at the edge of Holy Island sands. Take the causeway onto the island to complete this wonderful Pilgrims Path.